Little Leapers School Term Time Tues-Fri 10am-12pm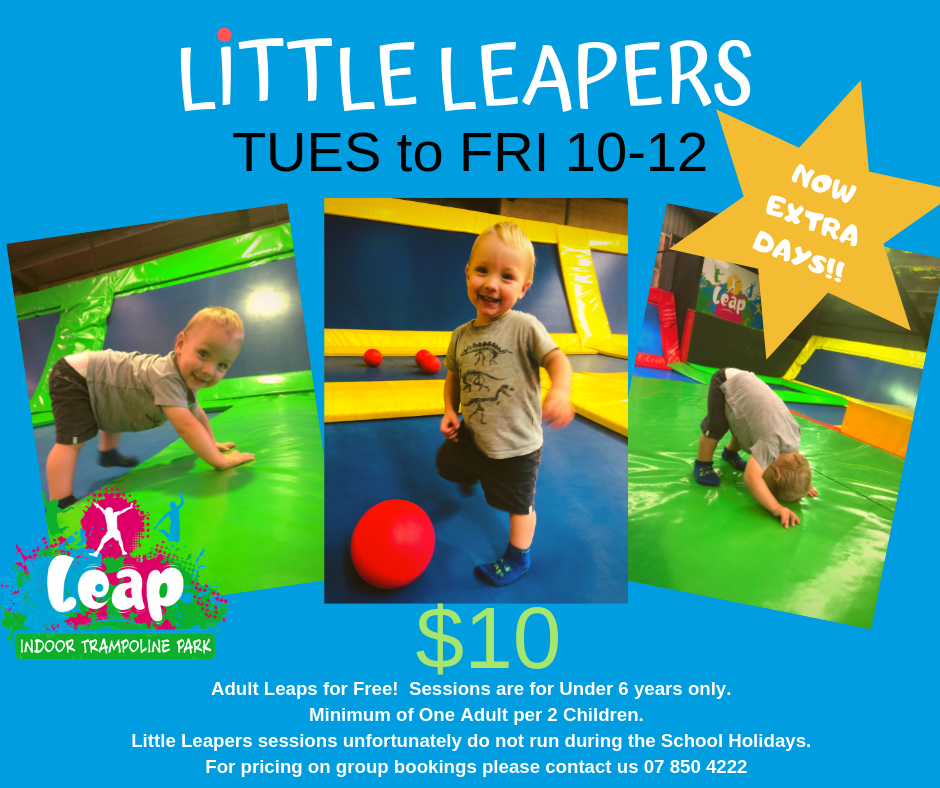 Little Leapers is the perfect place to let your Little Ones run wild! They will learn all about gravity and spatial awareness without having big kids in their way.
These sessions run Tue, Wed, Thur, Fri during Term Time from 10am-12pm. Leap Socks are now compulsory.
During this 2 hour session you can enjoy our entire facility (with the exception of Megazone). Its best to purchase tickets via our BOOK NOW link as we may have a preschool booking and no public tickets available.
Admission is $10 per Little Leaper and free entry for their parent/adult/supervisor.
We created these sessions especially to encourage parents to have fun with their little ones on all our activities.
We do require a adult/parent/supervisor to watch their child closely during this session and please remember that this is not a general adult leaping session.

We have snacks and drinks on offer for purchase and our LEAP Team can also make that essential espresso coffee and yes we also have the ever popular shots!

We also sell specially made high quality Leap grip socks, these are only $2.50 each!! and we have socks small enough for those little feet.

The Little Leapers session runs from 10am - 12pm Tues, Wed, Thurs and Fridays during TERM TIME ONLY, arrive any time and you are welcome to stay longer to enjoy some refreshments once the session has finished. These sessions are for age Under 6 ONLY.
If you are a Pre-school or Kindy or an In Home Care group please contact us for special group pricing.