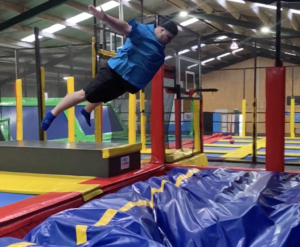 Would you like to practice your flips? Give it a go by using LEAP's air bag – take a running LEAP onto our air bag and show everyone your moves. Make use of our 6 meter waterfall trampolines and raised platform to widen your LEAPing experience. Please remember that trampolining is an extreme sport - LEAP within your own ability.

Why did we remove our foam pits and introduced the air bags?

● Hygiene - foam collects dirt and sweat and cannot be cleaned properly
● Safety - safer and more comfortable for younger LEAPers - no chance of getting buried under the foam
● Tricking - a great tool in encouraging correct landings when practicing flips and tricks
● Cleaning - easy to clean as the top cover can be removed
● Dust and allergen free - asthma suffers and those who suffer from allergies are able to enjoy the airbag freely
● Safety - generally safer as the surface is flexible and offers much more support when landing

Deals for Leap Lovers
Call in to your local branch and pick your self up a FLIPPING good deal!
Buy A Voucher
Perfect for presents! Simply head to our checkout via the link below, choose today's date and choose 'Gift Vouchers'
Please enter your details:
Please note: If you enter the recipients email, the voucher will be sent straight to the recipient.